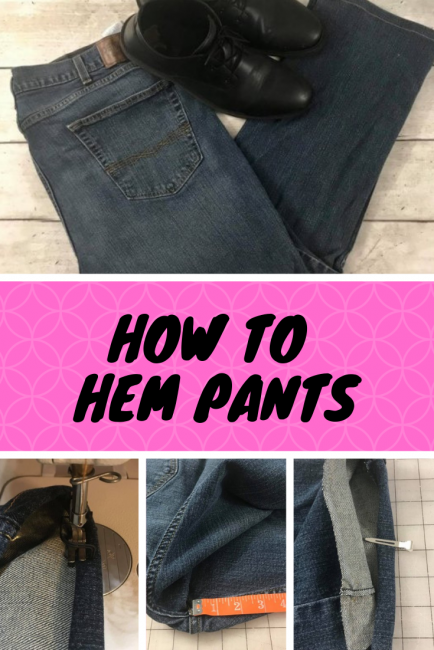 Hemming pants is necessary sometimes. This tutorial shows a step by step process to hem pants – in this case, denim pants. As most of us have experienced, store bought clothing doesn't always fit us perfectly. My husband has a hard time finding jeans that fit his waist and are the correct inseam. We generally end up buying them too long and I hem them for him. I have found some great tips along the way to make hemming jeans less stressful, lets face it, they are a tad more difficult just because the heavy material.
Materials
You will need:
scissors
cutting mat
ofla cutter or similar
quilting ruler or similar
denim needle (don't try to cheat)
denim thread
Getting Started
I always just have my husband try on his jeans and pin them but you could mark the inseam by measuring with a tape measure. Take it from the crotch seam to the correct length and pin.
After you pin the correct length ADD some length for the actual hem. I always do about 1.5 inches but you could do as little as 1 and it would work well. You will them take your ruler and cut off the excess material.
At the seams, cut off the bulk so that the side seams are easier to sew over, this means you will have to seam rip a tad of the inseam to clip the bulk. When I worked for an alterations shop, we did this every time and it really does help.
Fold half of your alloted hem allowance over and press, then fold the other half over and press again.
Using a DENIM NEEDLE
Make sure to put a denim needle in your machine along with denim thread. IT MAKES A HUGE DIFFERENCE. It will end up look very similar to the manufactured finish. Also, maker sure you wind a bobbin with the denim thread, regular thread will not work for the bobbin, it will look wonky. The biggest tip: Take your time and sew slowly, it is worth it when hemming pants.
And there you have it! A pair of jeans that are the perfect fit and length. Know you know how to hem pants, specifically denim pants. I hope you've found this helpful.
If you enjoyed this tutorial, you're sure to like some of our others:
6 DIY Tutorials for Jean Alterations: https://www.peekaboopages.com/2016/08/6-diy-tutorials-for-jeans-alterations.html
How to Sew Pants With a Professional Look: https://www.peekaboopages.com/2015/08/sew-professional-looking-pants.html
For your pattern and fabric needs, come visit www.peekaboopatternshop.com