I'm so excited to be a part of A Very Go To Christmas!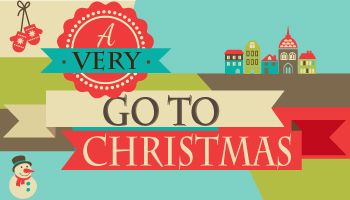 The fabulous Andrea of Go To Patterns and Train to Crazy  has put together a fabulous holiday tour for all of us to enjoy! I love seeing other bloggers give their honest feedback on patterns (you just might find some of mine in the tour too!) and get fabulous ideas for my own sewing!
I got to try out two patterns from DIY Fluffies and I can't wait to give them to my kids for Christmas!
The dragon is for Will. I know he is going to love chomping on that tail
And the "snort" is for Anne. She insists that's what rhinos are called
I let her pick out the fabric and she was very excited about the blue stars so I know she'll love her new fluffie!
These patterns are for intermediate and advanced sewers and I have to admit I did get caught up a few times. The biggest thing for me is that these are European patterns so you have to add your own seam allowance. Definitely not a deal breaker but something to get used too
I did make a couple changes and sewed on the dragon's wing and arms by machine before assembling the body and I think that was a great choice. Assembly wasn't too much harder and now they can't be pulled off and swallowed. One other thing to note is that this rhino is a big boy! The dimensions are listed on the pattern but I didn't pay much attention and was surprised at how big he came out. Not a problem but plan on using a whole bag of fluff to fill him up
Don't miss the other fun stops on the tour:
Handmade Therapy Nov. 29tha pretty cool life. Nov. 29thSew Much Ado Nov. 30thSimple Simon and Co Dec. 1st One Little Minute Dec. 1stThe Cottage Home Dec. 2ndSew country chick Dec. 2ndNap Time Crafters Dec. 3rdA Little Gray Dec. 3rdskirt as top Dec. 4thyou & mie Dec. 5thBoy, Oh Boy, Oh Boy! Dec. 5thMe Sew crazy Dec. 6thsee kate sew Dec. 6thDelia Creates Dec. 7th
And to make all of your holiday's merry and bright there's a fun giveaway!
Enter to win a shopping spree at GoToPatterns.com and Sew Fine Fabric!

THREE WINNERS!

Please note that the opinions of this post are totally mine and I was not compensated at all for writing it.  I did however receive the sewing patterns free.
The following two tabs change content below.
Amy is the founder and owner of Peek-a-Boo Pattern shop. She is a wife and mother to 3 children. Amy loves to sew, read and spend time outdoors.