I'm guest posting over at Elegance & Elephants today as part of Heidi's amazing Knock it Off Series!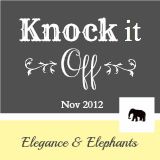 Seriously so much inspiration to be found from all of the wonderful guest posters!
I have a fun post on how to create designer looks for less using some of my patterns
Make sure you hop on over. There's a discount code waiting for you
The following two tabs change content below.
Amy is the founder and owner of Peek-a-Boo Pattern shop. She is a wife and mother to 3 children. Amy loves to sew, read and spend time outdoors.