Hi Everyone!  I'm Krista and you can find me over at While He Was Napping.  In a nutshell, I'm the young, twenty-something wife to My Mr Right and momma to our two boys.  My Mr Right is the love of my life and best friend.  I'm a lucky girl like that.  We have a super cute toddler, Little Monkey, that keeps me incredibly busy and on my toes.  He has more energy than I could even dream of.  We also have a growing Little Gator.  He joined our family in February 2012.  These boys are the inspiration behind the title of my blog, as I only seem to get things done when they are asleep.
I have always been a creative girl and can't remember the last time I didn't have some sort of project going on.  I am a Jack Jane of all Trades.  I like to try new things and have a nice stubborn streak, which is a blessing and a curse sometimes.  Occasionally, things don't turn out like I'd hoped for, but that's where My Mr. Right comes in.  He's the brains of a lot of my projects, especially the big ones.
While He Was Napping started out as a marketing tool for my Etsy shop.  Life happened and I all but abandoned both my shop and blog.  About a year and a half ago I decided to give it another go.  While He Was Napping has quickly become a collection of my domestic life.  There's a little bit of everything: crafts, recipes, freebies to print, cleaning and organizing ideas, fashion and beauty tips, blogging tutorials, giveaways, things for kids and ideas for date night and romance.  I'd love for you to come over and visit!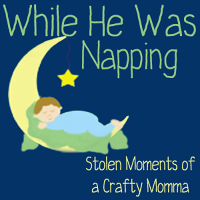 I'm tickled to be here while Amy spends some time with her family.  I just had our second little boy back in February, so I know just how much time a newborn takes… and how little sleep new mommies get!  Congrats, Amy, on your new little bundle of joy!
Those first few weeks with a newborn can be incredibly rough.  Physically and emotionally.  My youngest little munchkin is about three months old now and the rough times were plentiful and not so distant.  So… here are my top 15 Mommy/Newborn Must Haves:
1.  Comfy Clothes.  Whether you prefer sweat pants, yoga pants or no pants (although that probably won't be the case…), something loose, easy to move around in and something you don't mind getting ruined is probably a good idea.
2.  Burp Cloths.  We use cloth diapers with our kiddos.  Not on their tushies, but as burp rags.  They work phenominally.  And newborns seem to be a constant leak of just about every bodily fluid imaginable… ever changed a breastfed baby's diaper?  'Nough said.
3.  Baby Hair Brush.  My kids have both had cradle cap something fierce.  It's gross and annoying, but that's just Momma's stand point.  It doesn't bother that precious little one at all.  However, my two and a half year old loves to have his hair brushed… getting ready for church is a piece of CAKE!  And I'm going to tell myself that it's because we started brushing it early.
4.  Waffle-knit Thermal Blankets.  These things are heaven-sent.  We use them to swaddle.  They have just the perfect stretch to hold those wiggly little arms and legs tight without being constricting.  We snagged some from the hospital where we had Little Monkey two and a half years ago.  They are a little longer than the ones I found on Amazon, but both work.  This is definitely something I wouldn't go without.
5.  Breast pump.  I wasn't able to nurse Little Monkey, but have had better luck with Gator this time around.    I found… ok, my husband found… a screaming deal on an electric dual breast pump before Little Monkey was born.  It was pre-owned, but in great condition and has been fantastic.  Can't afford an electric dual pump?  I also have a manual pump that gets quite a bit of use and you can find them for about $30-40.  Why a breast pump?  Because you will reach a time when you NEED to be away from your baby for more than just a few hours.  Whether it's that first date night after baby arrives or work or whatever, it will be incredibly nice to be able to pump a bottle and let someone else feed your child every so often.  I don't love breastfeeding, personally, so I'm working on building up a supply so I can quit sooner rather than later.  (Side note:  I exclusively fed Little Gator from the breast for just over a week.  That seemed to be long enough for him to figure out breastfeeding and to switch back and forth between a bottle and breast easily.)
6.  Baby nail clippers.  Good grief!  I don't know if my kids have the fastest growing nails ever or what, but it seems like they need their nails cut once or twice a week.  Ever tried to cut a wiggly toddler's nails?  You'd think a newborn would be fairly easy to groom.  Ha.  My newborn fights it more than my two and a half year old.  We tried about four different kinds of nail clippers and I think you just have to try a few sets to find what you prefer.  Unfortunately, we got my favorite pair when Little Monkey was born and they are incredibly hard to find now.  Lame.
7.  Footed Sleepers.  Our kiddos literally live in these outfits for the first one to two months.  I love that they keep their feet covered and warm.  A lot of the little-bitty ones have the mitten cuffs you can pull over their hands, minimizing the time you spend cutting those crazy-sharp nails.  They are one piece, easy to put on, take off, and work around while changing diapers.  And, let's face it, you change A LOT of diapers in those first few days.  Bear face feeties not required, but they are awfully cute.
8.  A good water bottle.  I often found myself thinking… "how long has it been since I ate last?"  When you're feeding your baby every 2-3 hours for 20-30 minutes at a time (and that's a quick feeding session!), you don't have a lot of  'free time'.  If you don't eat regularly, at least keep yourself hydrated.  Lots of hospitals will send you home with one.  My last one did not.
9.  Stool Softener.  Start taking these as soon as they bring you your first dose of pain meds.  Request them if you have to.  I promise that swallowing those little pills will be so worth the alternative.  That first time after delivery can make you cry for another epidural, especially if they start pumping your system full of iron.
10.  Dibucane ointment.  You may also know this as Nupercanal or hemroid cream.  Both my boys were medicated natural deliveries.  Delivery is messy and brutal.  Your poor body suffers some serious trauma and then they wake you up every two to three hours while you're in the hospital, where you're supposed to be healing ironically, denying you the rest you so desperately need.  With Little Monkey, I was given the spritz bottle, the container of tucks and a tube of dibucane ointment.  I got the same things with Gator, minus the ointment.  I was so uncomfortable, I Google searched the stuff and sent My Mr Right out after some at midnight one night.  The ointment seems to help keep any stitches from pulling, as well and keeping those after-delivery diapers from rubbing on your poor, sore lady parts.  Your local drugstore should carry the stuff.
11.  A Good Night Light.  You will see hours of the day, er night, that you'll never want to see again whilst navigating those first newborn weeks.  If you go with a night light instead of the overhead lights or even a lamp, you'll be able to see what you need to see, but your baby won't be wide awake and, thus, easier to get back to sleep.  I actually use the camera flash light on my cell phone.
12.  A Nursing Support Pillow.  If you choose to nurse, I highly suggest a support pillow.  At least for the beginning.  Nursing may be natural, but that in no way makes it easy.  Most babies figure it out pretty quickly, and there are nurses you can ask for help if you need it, but the nursing support pillow just gives you one less thing you have to hold on to while trying to juggle baby and breast.  Set your little one on it and your hands are free to do any necessary guiding.
13.  A nursing cover.  I suggest taking this to the hospital.  You can nurse while you have visitors without hanging the girls out for the world to see.  After delivery there will be a plethora of people checking out your bruised and battered body, but I think there are just some things my father and brother don't need to see…  You can buy these online and in baby boutiques and they are relatively easy to make.
14.  A Camera.  Or two or three.  Digital is awesome (who doesn't have digital at this point, anyway, right?) because you can snap and snap and snap and then delete the ones you don't want.  Babies grow ridiculously fast the first few weeks.  You will want to capture every moment you can while it's still happening.  The first couple weeks will yield a lot of sleeping baby photos, giving you the chance to focus on all the little details.  The hands, feet, ears, toes, nose, baby eyelashes and cute little belly button (once the cord stump falls off).  Take the chance to get those details on camera because once they start moving and discovering their hands and feet, your photos turn into one big blur after another.
15.  A Baby Book or Journal.  Write down the good and the bad.  Or at least talk about it with someone.  Hormones after delivery can mess you up something fierce.  With my first baby, I felt so lost and clueless.  My mom was there to help; but, in some weird hormonally twisted way, I felt like all the help she was giving was actually her telling me I was doing everything wrong.  I know that wasn't it at all, but I struggled after my Little Monkey arrived.  I felt incompetent and bitter.  I was always so exhausted and felt like I was nothing more than the dairy cow, pumping every two hours.  I felt tied down and confined to our house because I had to spend so much time and effort trying to feed my baby.  Wasn't this supposed to be one of the happiest times of my life?  Hello, baby blues.  Or was it a little post-partum depression?  I don't know, but I had a great circle of people that were keeping an eye on me to make sure it wasn't something serious.  Baby blues and post-partum depression are nothing to be ashamed of.  You've just been through a monumental change and it's totally ok (and normal!) to feel overwhelmed.  However, postpartum depression can be serious too, so just keep a watch on it.
There is nothing quite like becoming a parent, whether it's for the first time or the fifth time (I assume, anyway.  I've only done it twice so far).  There is something so sweet and innocent about precious, brand-new babies that you can't help but reflect on life.  It's an amazing miracle.  Write down your musings, because when they are two and driving you crazy because the only word they say is "no" all day long or they are pulling things out faster than you can put them away, you'll be grateful for the gentle reminder that your little ones are sweet and precious, it just might be hiding under a thick layer of mischief, curiosity and testing the limits sometimes.
_______________________________________________
Congrats on your little bundle of joy, Amy!  Enjoy the snuggles and cuddles and all the other fun things you've got going on, you busy woman.  Thanks for letting me visit!  I'd love to see some of you over at While He Was Napping.  Come hang out and kick back for a while – at least until they wake up.

Thanks for sharing these amazing tips with us!
The following two tabs change content below.
Amy is the founder and owner of Peek-a-Boo Pattern shop. She is a wife and mother to 3 children. Amy loves to sew, read and spend time outdoors.